7 Tips for Picking an Exterior Paint Color
With summertime officially here, we've dedicated recent blog posts to answering a few key exterior painting questions. Our goal is to help you get the very most out of your house painting improvements, process, and experience.
In case you missed them, you may want to click or tap your way back to these articles:
No discussion of exterior painting would be complete, of course, without a few tips for picking your new paint color.
Are you ready?
How Do You Pick an Exterior Paint Color?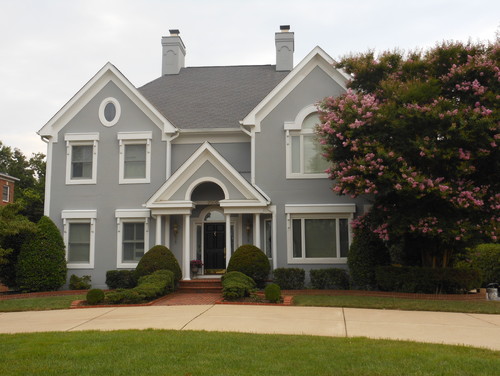 Photo by Williams Professional Painting - More exterior home ideas
#1 Don't Rush the Process
Exterior paint is a bit of a commitment. We recommend pumping the brakes and making sure that you have thought through your choice carefully, and utilized all your inspirational resources. With that said, when you find something that works well, go for it. You could be contemplating colors for years, if you wanted to. It's best to cover your bases, then make a decision before another well-meaning friend muddies the waters.
#2 Talk to Your Painting Company
Many painters offer professional color consultation services. This is an avenue worth pursuing, as the door might just be opened to ideas and possibilities you would never have thought of otherwise.
#3 Consider Your Neighborhood
There's nothing wrong with standing out a bit, but most residential neighborhoods appreciate a color that doesn't stand out too wildly. You also can take a few mental notes as well, observing what you like or don't like about the paint colors up and down your street.
#4 What Are Your Aesthetic Goals?
To make your home blend in? Or, maybe you want to walk on the wilder side and let your home pop out from the curb? The colors you choose have real power, making it critical to think through your overall goals.
#5 Research Your Home's Regional or Architectural Roots
If you have an older property, or one that follows a distinctive style, you could get inspired by digging into traditional paint schemes used on that type of home. A little colorful, historical excavation can dig up a lot of great ideas.
#6 Check Out Houzz.com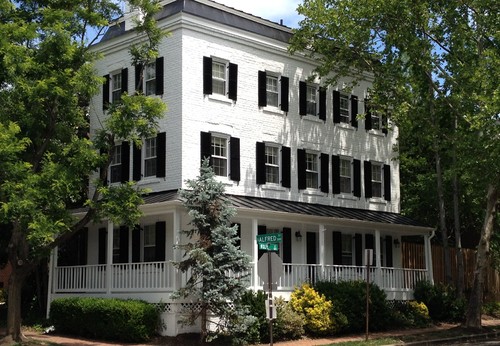 Photo by Williams Professional Painting
Houzz is a massive online resource for all things relating to home improvement. We encourage you to puruse their examples of exterior paint colors (or, you can search for a specific color you're interested in!).
And, while you're there, be sure to follow our profile.
#7 Keep Your Fixed Colors in Mind
Your roof, chimney, stone facade, or other architectural features or elements can narrow your paint color options. This isn't a limitation, but rather a helpful way to get that much closer to your perfect color.
As always, if you have any questions here in the Northern Virginia or DC area, we encourage you to contact us at Williams Professional Painting. It would be our pleasure to serve you!