​Bring Your Dining Room to Life with Color
Your dining room should feel like the perfect place in your home to enjoy a great meal and conversation with friends and family. All too often though, decorating this space turns into an afterthought. A little color can go a long way towards injecting life into your dining room. Whether you want just a splash of your favorite hue or are ready to try something bold and exciting, we have some great ways for you to update this room in your home with color.

Bringing in Color with Accessories
Photo by Charlie & Co. Design, Ltd
Take away the rug and lampshades, and this dining room would look very similar to one in a typical Northern VA home. By bringing in brightly colored accessories these homeowners were able to showcase their personal style and quickly transform a room comprised of otherwise neutral walls and furnishings. Of course rugs and lighting aren't the only way to bring color to a neutral room. Drapery, artwork, or upholstery on chairs are all great ways to decorate with your favorite hues while maintaining an overall calm ascetic.
Showcase Trim with Paint
Photo by Rafe Churchill: Traditional Houses
Here is another example of a dining room that uses a small amount of color in a strategic, yet powerful way. In this case the homeowners strayed from predictable white trim in favor of a cheerful combination of yellow and gray. Painting trim is a low cost, low commitment way to experiment with color. Since it only covers a small amount of space, you can try brighter interior paints without the same risk of overwhelming your dining room with a strong color.

Let Your Furnishings Shine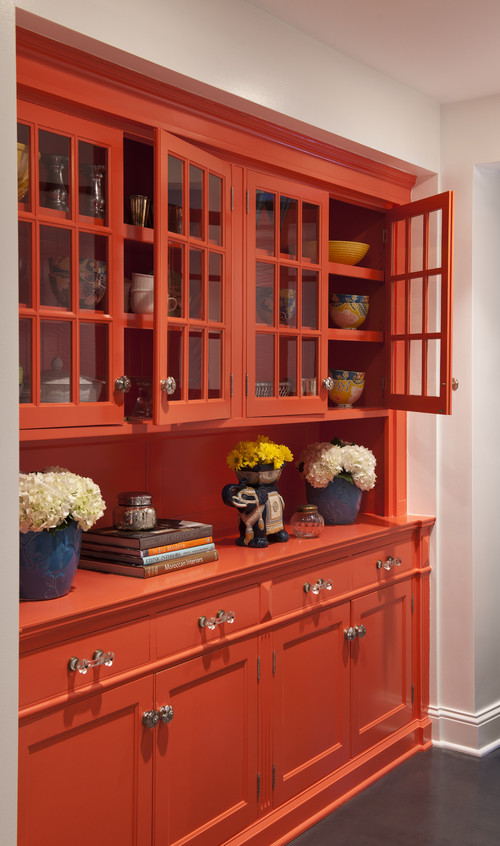 A large piece like a buffet or a built-in china cabinet can become the star of your dining room when painted the perfect, eye-catching hue. The built-in featured above looks stunning painted fire engine red. You don't have to go this bold to make a statement though, in a dining room without much color competition just about any non-neutral color will become a focal point.
Your Dining Room in Full Color
If you're ready to make a big statement with color in your dining room, then it's time to pull out the paint roller. This room of your home is a great place to choose a stronger interior color, because you won't be sitting in it for long periods of time. In the example above, the lime green wall color, though bold, is broken up and softened by the neutral colors of the gallery wall. So if you're feeling at all nervous about large expanses of strong color, remember that neutral accessories like artwork or drapery can help control the overall feeling of your dining space.
Getting Your Dining Room Company Ready
With the holiday season fast approaching there is no better time to begin thinking about how you can make your dining room look its best! Whether you want a bold infusion of color or prefer something calmer, making the space you gather with the ones you love reflect your personal style will only add to your overall enjoyment.
Do you live in the Northern VA area and want help transforming your dining room into the perfect space in which to entertain company? Contact us today, and let our team of experienced painters and carpenters help you make the room of your dreams!