Interior House Paint Color Ideas for 2018
Did you ever feel like things in your home are just a little too ordinary, a little too safe, a little too neutral? Any of the choices for the 2018 colors of the year could definitely fix that! Each year several major companies anounce their color of the year, which set the trends and inspire the fashions for clothing and decorating. Do you see anything here that inspires you with ideas for interior painting in your home?
Oceanside, by Sherwin Williams
This color is on the cool side of the spectrum, yet it has a surprising, pleasant energy to it. For interior painting, it could make a great color choice in living rooms, bedrooms, and bathrooms.
Photo by Laura U, Inc. - Discover kids' room design inspiration
This house paint color looks wonderful when framed by bright white trim, but it could also go well with greens for a calm mood. Alternatively, use a contrasting warm color to create a pleasing contrast. Here are some of the shades that Sherwin Williams suggests as pairs for Oceanside.

Caliente, by Benjamin Moore
If Oceanside was chilly, this next paint color will warm you up! Caliente is a rich, attractive red that has a smooth elegance to it. It is a great option for a dining room or living room, but would also go well in a bedroom, family room or man cave.
Photo by Interiors by Myriam, LLC - More dining room photos
Again, white is an easy choice for pairing this color. They make a very pleasing balance together. Caliente also goes well with neutrals like gray and tan, or with blues, either rich dark blues or misty light blues. Here are a couple more color ideas that Benjamin Moore suggests.
Ultra Violet, by Pantone
Pantone is more in the fashion and decorating world rather than interior painting, but their choices definitely influence interior house painting. Ultra Violet would be an exciting choice for a bedroom or a powder room, or it could be used as an accent color in a living room.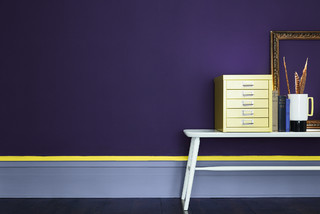 Photo by Manders - Discover home design design ideas
Lavender makes a good companion for Ultra Violet, or it could be contrasted with a yellow or orange. Of course, white again makes an excellent companion for this color.
Interior Painting in Northern Virginia
Whether you like these house color ideas, or if you have something else in mind, Williams Professional Painting would love to help you plan your interior paint colors. Our Design Center offers professional color and design advice to help you craft a look that fits your personality and your home.
As a quality painting company, we offer exceptional value. We use excellent materials, and we stress proper application techniques to create stunning, durable results. Our respectful employees make your house painting project a pleasant, efficient process.
Serving Alexandria, McLean, Arlington, Herndon, Fairfax, Oakton, Vienna, and the whole Washington D.C. region, Williams Professional Painting is an excellent choice for your next house painting project.