Interior Painting Ideas – Use Warm Colors to Liven up a Dull Season
They say that the worst thing about January is that February comes next. Whether you agree or not, it is true that this time of year can be a bit of a slog. With the weather often being dreary, cold, and damp, we aren't outside much, and the inside of our homes can also start to feel a little… drab? Whatever word you would use to describe it, we have a suggestion for you: use warm paint colors to liven up your home interior this winter!
What Are Warm Colors?
As you might expect, warm colors are the ones we associate with heat, whether it be from the sun or a fire. Namely, they are yellow, orange, and red. There are also many paint colors that are variations or shades of these, such as pink and maroon, and in-between options, like yellow-orange.
Now, before you get dismissive, thinking those colors would be too bright or garish for your home interior, remember that they come in hundreds of unique tones and hues. Trust us, your walls won't end up looking like a kid's super-hero lunchbox!
Take a look at the following rooms, and how they use pleasing shades of warm colors for a lively, cheering effect.
Photo by B Fein Interiors LLC - More living room ideas
Photo by Hawthorn Builders - Discover nursery design inspiration
Photo by David Boyes Home Concepts - Search living room pictures
Photo by ARTISSIMO - Idit Deutsch - Look for living room design inspiration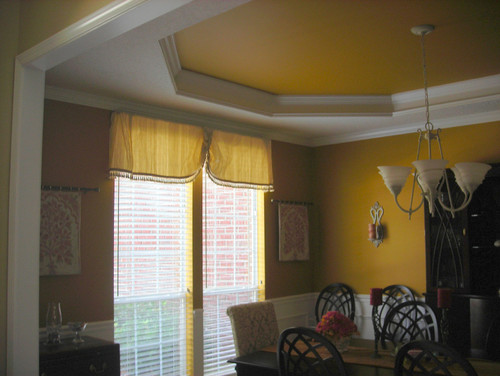 Photo by Mark Howell Painting Inc. - Discover dining room design ideas
That wasn't overpowering, was it?

Can Cool Colors Have Warm Undertones?
Absolutely! There are shades of green that carry strong undertones of yellow, blues that have a vibrant warmth to them, and purples that lean strongly towards red. You may find that these cool colors have a lively nature to them that will brighten up your days and add variety, the spice of life, to your home. Here are some ideas for bright paint colors that could liven up your home this winter.
Photo by Echo Design - Look for bathroom design inspiration
Photo by Юлия Веселова - More living room photos
Cool? That doesn't do it justice!
It doesn't Have to Be the Whole Wall
Many of the colors that add warmth and liveliness to a home could be a little overwhelming if you used them on all four walls of a room. That's what accent walls are for! If you choose one wall to be a focal point in the room, just put your color there, and see how it changes the feel of the whole space, without being overbearing.
Photo by Patterson Custom Homes - More bedroom ideas
Photo by - Look for family room design inspiration
Another popular method is to use two paint colors in a room, on opposite sides from each other. For example, you might use a typical neutral color on the east and west walls, and then a deep red or smooth yellow on the north and south walls.
Professional Painting in the NOVA Area
If you are looking for color or interior design advice, Williams Professional Painting has a professional design center, ready to answer your questions and help you generate ideas that will look fantastic in your home. Of course, we are also ready and able to put those transformations into effect, with quality interior painting services, as well as drywall repair, popcorn ceiling removal, kitchen cabinet painting, and much more.
If you would like to set up a consultation and get a free estimate for interior painting, contact Williams Professional Painting today! Based in Alexandria, VA, we serve Northern Virginia, Maryland, and the Washington, D.C. area.