​Creating A Cozy Bedroom
The colder months have arrived. Does winter's chill send you rushing under the covers? If you find yourself retreating to your bedroom as the temperatures drop, why not make sure your escape from the cold is as inviting as possible?

Ways to Create an Inviting Bedroom
Everyone has a slightly different idea of what makes a bedroom feel cozy. Maybe you are most comfortable in a bright and cheerful space, or maybe you prefer an inviting, almost cave-like atmosphere to feel perfectly relaxed. Whatever your taste, we have some great ideas that will help to set the tone for a winter getaway in the comfort of your own home!
A Limited Color Palette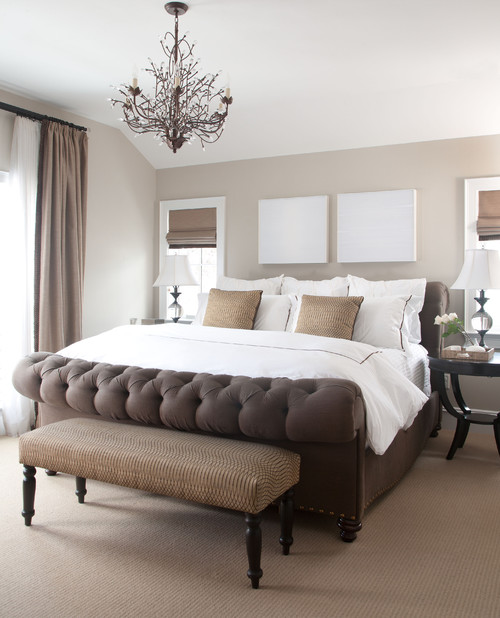 Keeping to a single family of colors creates a sense of harmony in a space. Notice how this bedroom repeats shades of brown in the textiles, flooring, wall color, and furniture. Working your color into many layers of a room imparts a cozy feeling.
Opt For a Medium or Dark Wall Color
Photo by Shanade McAllister-Fisher
Gray-blue walls are anything but cold in this bedroom, especially when paired with warm taupes and wood tones. If you usually shy away from darker colors on your walls, the bedroom is a great place to consider a more dramatic color.
Frame Your Bed with Built Ins
A recessed space for your bed with custom built in bookshelves not only creates an inviting nook but also keeps your next book close at hand. All you need is a cup of hot chocolate and you're set to catch up on your reading list.
Put Color on Your Ceilings
Usually, soaring ceilings are a plus in homes. But when you want a room to feel especially cozy, those high ceilings can make your room feel expansive and cold. Painting them in a darker color or the same color as your walls will visually lower them and give your room a sense of warmth.
Looking for more ways to make your bedroom feel extra inviting? Read up on these 7 elements for a calm and cozy room.
If you're looking to transform your bedroom into a welcoming retreat for the winter month, there's no better time! We proudly serve homeowners in the Northern VA area. Contact us today to schedule your estimate.